Backflow Services
At Stuart's Plumbing, we believe that protecting our water supply is everyone's responsibility. A working backflow prevention system is essential to your plumbing needs because it protects against contamination and pollution.
In water supply systems, water is normally kept at a specific pressure to enable it to flow properly to your tap, shower, faucet, etc. If your backflow preventer is damaged, your water pressure could fail. This could also happen if a water main bursts or there is an unexpectedly high demand on the water system. If this happens and the pressure in the pipe is reduced, it may allow contaminated water from the ground to be drawn into the system and the water to become toxic. This is why our team at Stuart's Plumbing offers commercial backflow services, including installation, repair, re-certification, and replacement.
Backflow preventers are required for most commercial properties in Lakeland, Florida as a preventative measure against contaminating the water mains. At Stuart's Plumbing, we can install backflow preventers in many different models and strengths. The most common commercial style is a double check valve, which uses two operating principles. One check valve will still operate, even if the other is jammed open, and the closure of one valve reduces the pressure differential across the other, which allows for a more reliable seal and prevents even minor leaks. The most common residential style looks like an "L" sticking out of the ground and is used in irrigation systems.
Backflow preventers are so important that in Polk County businesses are required to undergo an annual operational inspection. Plumbing professionals who test backflow systems also have to be recertified every two years. This is done to ensure that our technicians at Stuart's Plumbing stay up-to-date on the current methods, technologies, and the correct pressure specifications for all types of valves involved with commercial backflow services. This is why our friendly and knowledgeable plumbers are the preferred backflow testers in the area.
When handling backflow situations, we also work with your water supplier and complete all the necessary forms and paperwork for you, so there is no additional hassle on your part.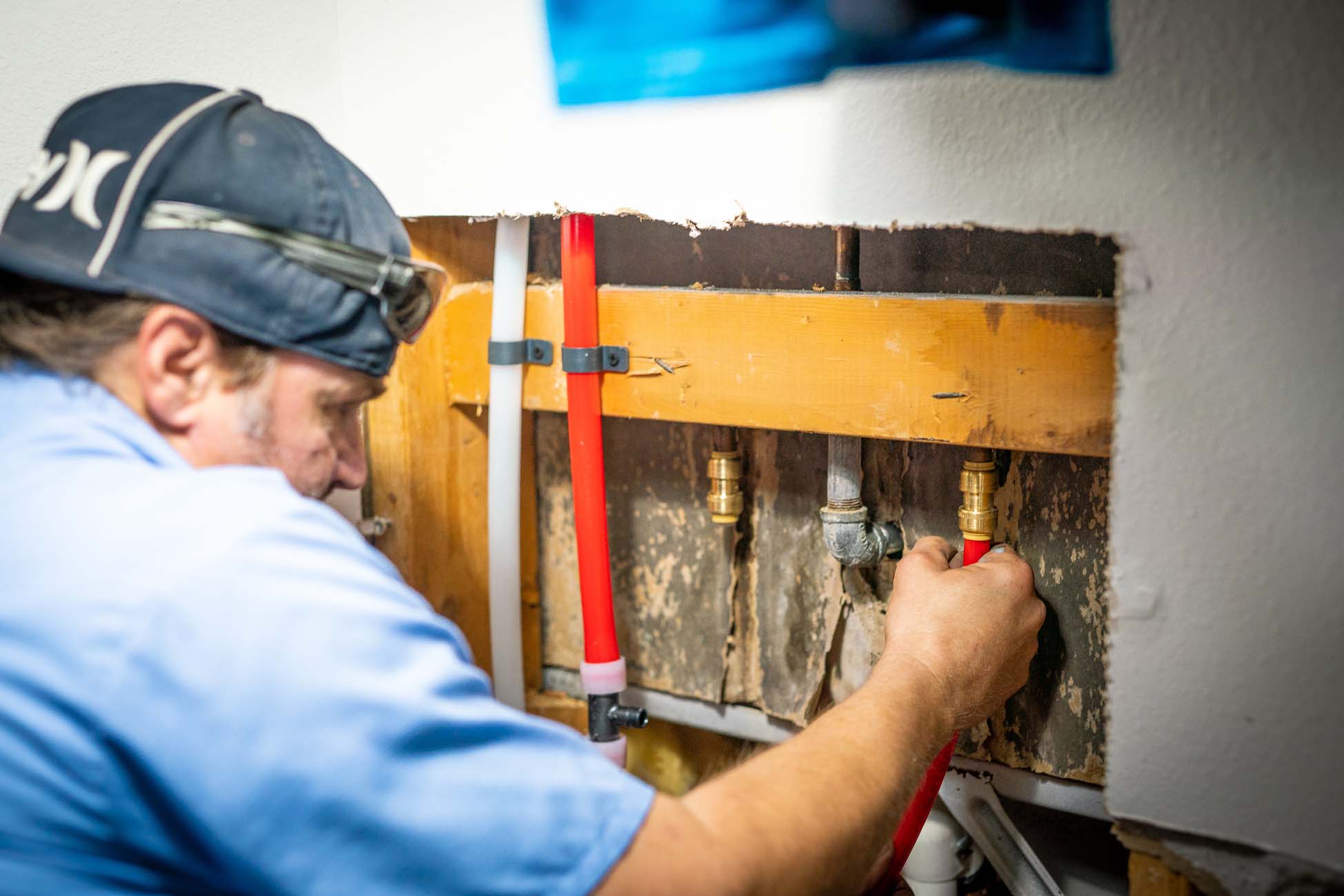 Drain Cleaning
Are you having problems with your business' drains in Lakeland, Florida? It can be annoying when your commercial drains are clogged, but it can be frustrating when you've tried everything and the clogs simply won't clear up. Although some clogs can be caused by too much material entering the sewer system at once, sometimes a clog can occur as a result of sediment building up in your pipes over time. If you feel like your drain problem has gotten out of hand, give us a call at Stuart's Plumbing to take advantage of our commercial drain cleaning services.
When it comes to drain cleaning, proactive measures can pay big dividends in capital expenses. When our service technicians complete your commercial drain cleaning, you will be taking action to preserve the longevity of your sewage system. This is critically important in food service industries where drains sustain heavy doses of chemicals, cooking fats, and cleaning substances from frequent use.
At Stuart's Plumbing, we charge a fair price and provide high-quality service; all with a professional and friendly approach. Let us partner with you to keep your plumbing equipment functioning properly and extend the lifetime of your assets.
Plumbing Repair
Peace-of-mind that your commercial property is cared for is essential to us.
At Stuart's Plumbing, we can do more for you than just clear debris from your commercial property's sewer system. We also offer commercial plumbing repair services in Lakeland, Florida that are designed to correct a number of different problems. For example, if there is a foreign object or grease in your sewer system that is prohibiting wastewater from flowing freely through your sewer line, we can remove this object effectively and efficiently and mitigate any damage it may have caused. Or, if there is a large tree root in your sewer system, we can complete commercial plumbing repair for the damaged line and get your sewer system back to proper working condition.
At Stuart's Plumbing, we take quality seriously. This is why our technicians are highly qualified and use state-of-the-art equipment and technology that can successfully take care of all of your commercial plumbing problems. We also recognize that when you have a plumbing issue, you may need to have commercial plumbing repair during a specific time frame. We work hard to repair all your plumbing needs within a realistic time frame so you can rest assured your business can be back up and running.
Hydro Jetting
Your office or facility's plumbing system is an intricate web of pipes. While keeping grease, oils, and other residue out of your drains is one of the best things you can do to prevent blockages, general wear and tear can create severe obstructions in your pipes. When this happens, give our team at Stuart's Plumbing a call! We offer commercial hydro jetting services to businesses throughout the Lakeland, Florida area, and they're guaranteed to get results.
How does commercial hydro jetting work? We start by threading a thin, flexible water line deep into a pipe. This water line contains tiny jets that release high-pressure water up to a certain psi. Once released, the intense stream of water scours the interior surfaces of your pipes, removing grease, scale, and other debris that has built up within your system over time.
Hear from one of our happy commercial services customers
Let us help you preserve the plumbing integrity of your business.